Individual and Representative Testing

Individual
Due to individual difference in chemical sensitivity and employee work practices, it is best to test each and every person wherever and whenever possible. You should choose individual testing when:
You are starting a new program and need baseline studies.
An employee displays symptoms or expresses concerns about exposure.
The department frequently changes personnel.
 
Representative
After you have established your exposure-monitoring program and previous testing shows a history of work practices along with a safe work environment, you may want to use representative testing.
Use the most restrictive testing when possible. Identify and test any and all Maximum Risk Employees.
Choose workers who perform the same duties in the same locations throughout your facility.
Test all new employees with exposures and anyone with unique exposures.
If you cease using a specific chemical then it is best to dispose of it.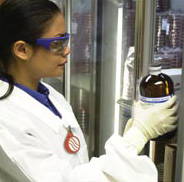 Badge Program